Insulated Subfloor Installation in Southeastern New Hampshire & Northeastern Massachusetts

See what makes this insulated subfloor system a must for your finished basement.
An attractive, long-lasting floor depends on a high-performance subfloor system
Anyone with dreams of a beautiful finished basement is sure to pay attention to flooring. Whether your wish is for laminate, carpeting, engineered wood or vinyl, there's one critical ingredient that many homeowners overlook: the subfloor.
That's why it's important to know about an innovative product that we install, called ThermalDry® Insulated Floor Decking™.
Benefits of ThermalDry® Insulated Basement Floor Decking
Immune to mold & moisture damage. The inorganic composition of ThermalDry® Floor Decking provides no food source or growing medium for mold.
Insulation included. A continuous layer of rigid foam insulation ensures that your finished floor surface will be warm & comfortable.
Low profile. With ThermalDry® Floor Decking you save a full inch of ceiling height compared to a built-up wood subfloor.
Versatile. Use ThermalDry® Decking as a basement subfloor or over any concrete slab where finished flooring will be installed.
Speedy to install. Decking panels interlock with tongue-and-groove joints, and don't require fastening into the slab.
Call us or contact us online to schedule a free consultation today! We provide Free Estimates for all of our finished basement solutions installed in Lowell, Nashua, Lynn and nearby.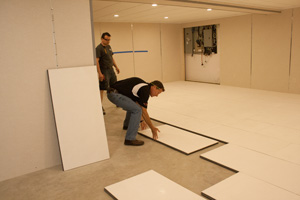 Quick installation. ThermalDry® Basement Floor Decking panels are designed to interlock and install without fasteners.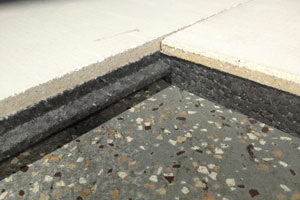 Top performance. The moisture-proof subfloor panels consist of rigid foam insulation with a composite top surface.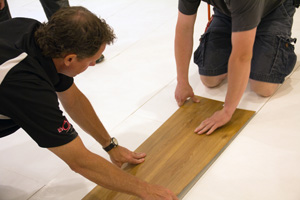 A superior surface. The inorganic, insulated subfloor panels provide a warm, dry surface for installing finished flooring in your basement.
Plywood subflooring and a wet basement can lead to mold problems
When it comes to basement flooring, we know what DOESN'T work. Installing most types of finished flooring directly on top of the concrete will result in a cold, clammy floor that can easily be damaged by moisture. It's also a mistake to install a plywood subfloor. Sure, the wood will make your finished floor a little more comfortable, but wood will also absorb and retain moisture from plumbing leaks, spills, high humidity and dampness from your concrete slab. Damp wood is a favorite food source and habitat for mold. In addition to destroying your floor, mold and wood rot put hazardous mold spores into the air you breathe. It's expensive and messy to remove moldy, moisture-damaged flooring and subfloor materials.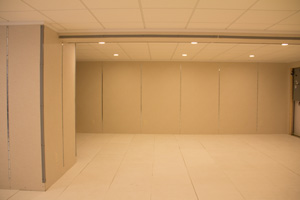 Insulate basement walls too
When it's cold outside, more heat loss will occur through basement walls than through the basement floor. Adding basement wall insulation will make your basement space more comfortable. In fact, basement wall insulation will benefit your whole house in terms of comfort and energy efficiency.
Get the best for your basement
Wouldn't it be great to have a basement subfloor that can't be damaged by mold or moisture, and that will keep your finished flooring warm and comfortable all year long?
The ThermalDry® Basement Floor Decking is designed to meet these goals. This innovative subfloor system combines 1-in.-thick rigid foam insulation with a composite top surface that creates a flat, stable substrate for your finished flooring. Because it's insulated and immune to mold and moisture damage, ThermalDry® Basement Floor Decking is truly the secret to success for any finished floor treatment. It's the best and last subfloor your basement will ever need.
Get a free quote for ThermalDry® decking in Lynn, Nashua & nearby
Contact Total Basement Finishing, A Blackdog Affiliate to schedule a Free Estimate to have ThermalDry® Floor Decking installed in your basement today!
Looking for a price? Get a no cost, no obligation free estimate.