Basement Finishing System Installation in Southeastern New Hampshire & Northeastern Massachusetts
Transform your basement into a beautiful, livable, custom-remodeled space with Total Basement Finishing™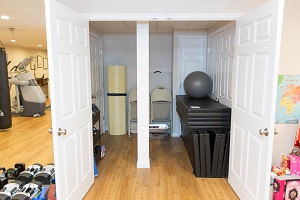 In the event of a water leak or even your basement flooding, our waterproof basement finishing system will survive.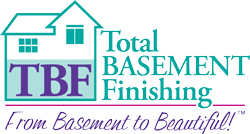 Most remodeling contractors have to rely on standard "off-the-shelf" building materials when they are hired to finish a basement. However, materials that perform well on upper levels of the home (wood studs, paper-faced gypsum board, plywood floor sheathing) don't do well in basements where moisture levels are higher.
We know this is true because our crews have removed many dumpster loads of mold-damaged wood and wallboard from basements that were finished the wrong way.
The Total Basement Finishing System™ includes products for walls, floors, ceilings and more that are moisture resistant and built to handle even the toughest basement environments. We want to provide homeowners with the most-attractive, lowest-maintenance, longest-lasting products available for basement finishing. Call us today for more information on our basement finishing products.
High-performance products - specially designed for basements
Wall panels. Available with or without integral rigid foam insulation, our wall panels feature a textured vinyl surface that repels water and moisture, resists mold, and cleans easily.
Insulation. Unlike fiberglass batt insulation, our rigid foam basement insulation won't absorb moisture, compress, lose R-value, fall out of place or attract mold. It's the best way to make your basement more comfortable and more energy efficient.
Molding & trim. Our solid vinyl molding eliminates any worries about peeling paint, mold and moisture damage.
Floor matting. Made from waterproof, high-strength plastic, these interlocking floor tiles are the perfect underlayment for carpeting or sheet vinyl.
Flooring. Our flooring is available in tile and plank form, always with a plastic base that won't support mold growth or sustain moisture damage.
Ceiling tiles. Our tiles come with a 30-year warranty against sagging and a lifetime warranty against mold & mildew damage.
Basement windows. Our high-quality vinyl windows won't ever rot, rust or require painting. We have standard size windows as well as oversize, egress windows that comply with code requirements for a basement bedroom.
Quick installation is a major benefit of our system
Total Basement Finishing System Benefits

Our wall panels are moisture and mold resistant, durable and easy to clean.

Our floor panels look like hardwood with all the benefits of vinyl: waterproof, won't warp or crack, and won't grow mold.
In addition to being waterproof, basement remodeling products from Total Basement Finishing are carefully engineered to install quickly without a lot of mess. Some of our wall systems, for example, attach directly to the foundation walls. Others slip into sturdy tracks. Our wall panels and ceiling tiles are prefinished, so there is no taping, compounding, priming, or painting.
We understand that many contracting jobs seem to go on forever. We wouldn't want our own houses under construction and a mess for an extended period, so we won't do it to you. With our basement finishing system, we can assure you that your project will be completed in a timely, cost-efficient manner with the highest quality products available.
We complete the entire job, from start to finish
From start to finish, Total Basement Finishing, A Blackdog Affiliate can transform your basement into a space you will be happy with. We begin by ensuring that your waterproofing system is working properly and is adequate. Our experienced craftsmen know how to overcome every basement remodeling obstacle, including tricky layouts, boxing out ducts, insulation, installing walls and ceilings, electrical and plumbing, heating and ventilation, dehumidification, finishing stairs and landings, and more. We'll take care of every aspect of the job.
Some things to consider before finishing or remodeling your basement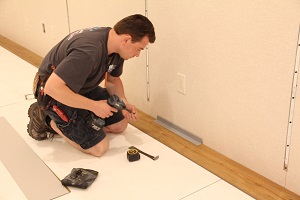 Our wall and floor panels are easy to install, don't absorb moisture, and are impact resistant.
Most 10-year-old finished basements are due for a remodeling because they become damp, mildewed and musty. This damp, musty basement space represents a third of your entire home's available space and value!
With the Total Basement Finishing™ system, your basement will remain mold and moisture free with all the beauty it was installed with. Our professionals pay attention to every detail, ensuring that when it comes time to sell your home, your finished basement will have added significant value to your home. If you choose not to sell, you will have a usable space to utilize how you wish for an entire lifetime.
Common challenges when converting a basement:
Water and moisture problems
Limited natural light and ventilation
Overhead pipes and inefficient ductwork
Low ceiling heights
Necessary emergency egress
Basement finishing ideas for your Massachusetts & New Hampshire basement
Extra bedroom
The ideal solution for teens, college students, and guests is an extra bedroom in the basement. Basement bedrooms are private, quiet, relatively easy to heat and cool and the most cost-effective way to add an extra bedroom to your home.
Basement apartment
In a tough economy, income from a basement apartment can help with household expenses in a big way. Studio apartments can be created in as little as 250 square feet. Larger basements can accommodate a living room, eat-in kitchen, bedroom, and full bathroom.
Play area for kids
Tired of tripping over toys and fighting with kids to pick them up? Create a comfortable play area in the basement with extra space to store their toys and other belongings.
Home theater
A home theater enhances the viewing and listening experience of any television program or movie, and there is no better place for it than a converted basement. Home theaters have become extremely popular when considering remodeling options for a finished basement.
Man cave
If the man of the house needs a place to play cards or watch sports with his pals, a man cave in the basement may be the answer. No need to spend a lot on expensive furniture, just make sure it includes a fridge full of his favorite beverages and snacks!
Basement bar
Entertaining around a basement bar is a great way to hang with friends. Add a pool table and dart board and the local pub will be wondering where its customers went. A walkout basement, with an adjoining patio and garden can even be a nice addition!
Hobby and crafts area
Hobbies and crafts are pursuits where making a mess is perfectly okay, but because these projects may take several weeks to complete, your home may not have a suitable space. Whether your passion is creating model planes, sewing or jewelry making, a work room in the basement may give you the space you need.
Laundry room
A proper laundry room makes this chore much more enjoyable. It should include plenty of shelving, a table for folding, a utility sink, space for an ironing board, heat and dehumidification, and plenty of good lighting.
Extra bathroom
Perhaps all you need to solve your family's in-house morning rush hour is an extra bathroom. Build yours with a sink, a toilet, a walk-in shower with plenty of light and a closet for clothing.
Schedule your free design consultation & estimate today
We've seen it all and have the expertise to handle every situation. As a dealer of the Total Basement Finishing™ system, we can build a dry, spacious-feeling, well-lit, and safe finished basement that would make any homeowner proud.
If you live in Nashua, Lowell, Lynn or nearby areas in Massachusetts & New Hampshire, take a look at all of the options below and contact us for a free quote!
Looking for a price? Get a no cost, no obligation free estimate.