Designing a Basement Man Cave for Your Home in Southeastern New Hampshire & Northeastern Massachusetts
We can help you build the perfect man cave in your Massachusetts & New Hampshire basement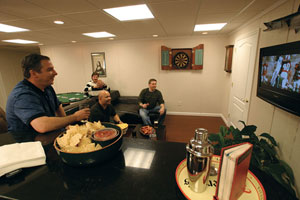 Versatility & durability. A man cave should accommodate a range of activities and feature durable, stain-resistant, easy-to-clean surfaces.
You have a beautiful Massachusetts & New Hampshire home, but now the man of the house needs his own area to unwind, relax, and enjoy a private area for himself. A basement "man cave" is the perfect solution for a man to create a space of his own in the house.
Total Basement Finishing, A Blackdog Affiliate offers several tips on how to successfully design, build and decorate a man cave in your basement with the added benefits of a little extra space. For a free estimate in Lowell, Nashua, Lynn and nearby areas, call us today!
To successfully transform a basement into a man cave, you'll need to pay attention to some critical details. Scroll through the list below to see all the specific areas you should focus on.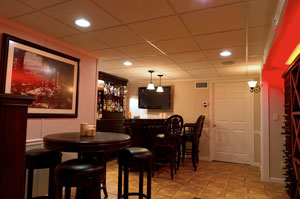 Stay away from wood studs and drywall
Cellulose-rich materials like framing lumber and paper-faced drywall provide an ideal habitat for mold when there is even a minimal amount of moisture in your basement. In addition to producing that unpleasant musty odor, airborne mold spores can cause serious respiratory ailments and allergic reactions. Total Basement Finishing, A Blackdog Affiliate uses all inorganic building materials that won't allow moisture damage or mold growth.
Install the proper insulation
Insulating your basement walls will help to keep your new living space more comfortable and energy efficient. You might also want to insulate the basement ceiling to reduce sound transmission upstairs.
The best type of insulation to use in the basement is rigid foam. Unlike fiberglass batt insulation, rigid foam won't absorb moisture, settle, attract mold or lose its insulating value. Rigid foam insulation has the ability to stop air leaks and provide exceptional R-value and moisture resistance.
Install a larger window
Is there any chance that your man cave might need to serve as a bedroom? If the answer is yes, then it's wise to have a small basement window enlarged so that an "egress-compliant" window and exterior window well can be installed. A full-service basement finishing contractor can fill you in on the details. Installing a larger basement window not only fulfills code requirements for a basement bedroom, it also brings much more natural light into the space.
Choose durable, low-maintenance materials
It's important to use inorganic materials that won't support mold. You should also keep in mind that you want your floor and wall surfaces to be as indestructible and low maintenance as possible.
Low-profile, high-strength plastic floor tiles make the perfect material for basement flooring. Though they look surprisingly like ceramic tile or solid wood flooring, these tiles won't ever warp, cup, or crack. They never require refinishing, and they clean up quickly whether you're mopping or vacuuming.
Wall panels covered with textured vinyl rather than paper offer similar advantages. Both of these products are carried by Total Basement Finishing dealers.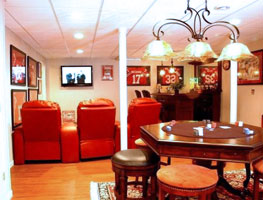 Aim for a flexible floor plan
When spending time in your man cave, you want as much space as possible. The more space you have, the more room for things like a dart board, pinball machine, pool table, and free weights can be placed there. An open floor plan allows you to properly space all the elements you wish to have in your man cave so there is enough room for activity.
Plan for plenty of power
Of course your man cave is going to be packed with toys, and some of these devices require power: electric guitars, video games, flat-screen TVs, DVD players, and let's not forget the dorm-size refrigerator you need to keep a few six-packs cold.
In most cases, it makes sense to have an electrician add a new circuit or two at your main service panel to provide power for the additional lights and electrical receptacles. One of the benefits of contracting with a full-service basement finishing contractor is that this basement finishing specialist can handle all subcontracting services, from moisture control to electrical work and the installation of new walls, ceilings and finished floors.
Control light levels
Providing that there's sufficient clearance, a finished basement should have a suspended ceiling that integrates overhead lights with ceiling panels. To augment this general light, you can provide task and accent lighting with lamps and wall-mounted fixtures. Make sure your lighting scheme allows you to control light levels, either with dimmer switches or by using some but not all of your lights.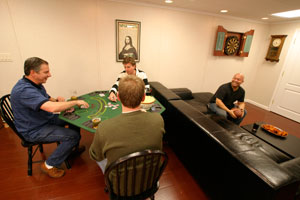 Manage the moisture
The first step in any basement finishing project is to deal with the moisture that comes into this below-grade space. If water is leaking into your basement, you'll need to install perimeter drains inside basement walls and connect them to a topnotch sump pump. An established national franchise such as Basement Systems can provide you with a warrantied waterproofing system as well as effective and energy-efficient dehumidification to keep this new living space dry.
Keep the man cave clean
Consider including a small closet in your floor plan to hold cleaning supplies, plastic garbage bags and bins for recycling beverage containers. If you keep your cleanup tools handy, the space can remain a clean, healthy space for family and friends to utilize with you.
Splurge on a basement bathroom
Yes, plumbing is the final frontier in your basement man cave project. This is a feature that can provide for more prolonged stays in your special space. The development of compact, self-contained basement toilets and other advances have made it easier and faster for plumbers to install basement bathrooms.
Looking for a price? Get a no cost, no obligation free estimate.