Designing a Basement Home Theater for Your Home in Southeastern New Hampshire & Northeastern Massachusetts
Enjoy all of the entertainment the world has to offer right from your basement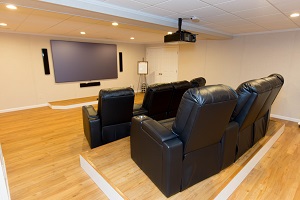 A home theater is a great basement finishing option.
Is someone in your family a movie buff? Or maybe there are some major sports fans in your house. How about family members who are simply passionate about catching their favorite TV shows?
In all of these cases, a home theater is the ultimate way to indulge in these passions. Many homeowners are also discovering that there's no better place than the basement for a home theater.
Why? Well, when you create a home theater in an upstairs room, you'll inevitably be dealing with existing conditions that can be limiting: windows and doors, electrical outlets that aren't in the right location, unsuitable lighting, and distractions in adjacent rooms.
A basement is a great place for a home theater
The basement of your house provides you with a blank slate - the opportunity to design a home theater, or other dream basement design idea as perfect as you want it to be. Instead of coping with the existing conditions of an upstairs room, you can get the details right the first time when you design a basement home theater.
Ideas to Inspire Your Design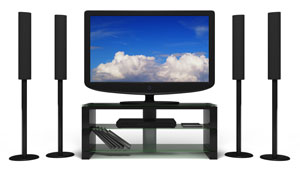 Hide the wiring and house the components
A big, low-profile, flat-screen TV is the star player in any home theater. With some built-in cabinetry underneath and on either side of the screen, you'll be able to hide the wiring and house associated components like DVR boxes and DVD players. Although the cabinetry can appear to be built in, make sure you have access to wiring in case repairs and replacements are necessary.
Be bright about light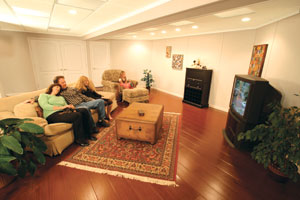 No, the light doesn't need to be bright in a home theater, but you need to be bright about lighting controls. Put your general or ambient light on a dimmer control so that you can turn the light down while you're watching TV. But make sure you provide task lighting where it counts, so that people can read, eat or use a laptop computer.
Task lighting can often be accomplished with floor or table-mounted lamps. For safety and convenience, make sure to light the stairway or the area around a refrigerator, sink or bathroom door. To save on electricity and keep your theater "green," use low-voltage compact fluorescent lights (CFLs) or LED lights.
Options for flooring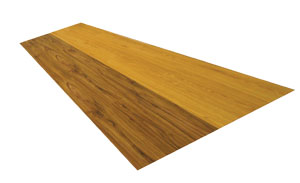 It's a safe assumption that people are going to be eating and drinking as they watch TV, so choose finished flooring material that won't be damaged by stains and moisture. Instead of carpeting, consider the ThermalDry® flooring tiles available from Total Basement Finishing.
Though this innovative flooring material looks surprising like real wood or tile, it's more durable, stain resistant, waterproof and easier to clean than the material it imitates.
Keep your space comfortable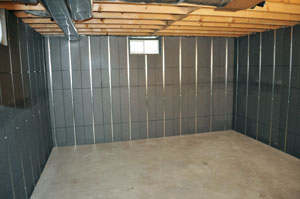 Many homeowners overlook the importance of including insulation in a basement finishing project. Without it, your new living space won't be as comfortable as you'd like. Make sure your contractor uses rigid foam insulation rather than fiberglass batts. Old-fashioned batt insulation can collect moisture, encourage mold growth, and lose its insulating value. Rigid foam will never suffer from these ailments. Speaking of comfort, it's a good idea to ask your basement finishing contractor about controlling basement humidity with a dehumidifier.
Looking for a price? Get a no cost, no obligation free estimate.